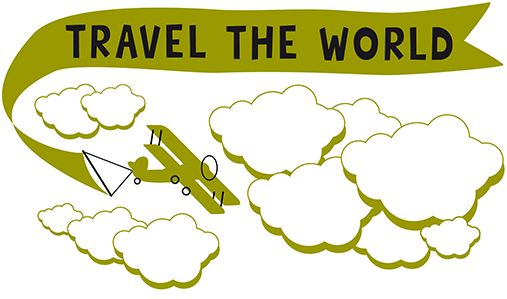 // The Freedom to Come and Go
in Our World //
Article 13 of the International Declaration of Human Rights states that "Everyone has the right to freedom of movement … the right to leave … and to return to his country." In article 24, it says that "Everyone has the right to rest and leisure, including … periodic holidays." These basic rights have led to the existence and development of tourism – "the industry without smokestacks."
Everyone has the right to move freely and to be a tourist, while respecting the freedoms and rights of others. The above words should function as a guideline for the development of official tourism policies, to help define objectives and dictate and regulate local, regional or national tourism. Prior to issuing permits and concessions to investors, the government needs to undertake or supervise comprehensive impact studies and address any potential threat to the environment. If these responsibilities are not perfectly carried out, both visitors and the local community may no longer be able to enjoy a pristine, undamaged environment.
Fortunately, people have become much more concerned about the destruction of natural habitats. As a result, tourist destinations now advertise their natural attributes as well as their concern for protecting the environment.
Tourism is an important economic activity that generates foreign exchange and serves as a source of development. Today, there are closer ties between tourism and the environment – along with more demand for itineraries that also respect the conservation of natural heritage, in addition to the classic aspects of travel.
Cruising along the Nile in their elegant boats and admiring the richness and beauty of their territories, the Egyptian pharaohs were probably not concerned about the impact of waste or their tanneries on the river – and they felt no need to debate the subject with their government advisors. Today, environmental conservation is an important issue at any forum that deals with our planet and its future. The tourism industry has also responded to the growing concern for the environment, and many international tourism companies have departments that "monitor, rate and certify" their services. This helps promote a positive image for customers and also improves sales.
According to the 2014 World Travel & Tourism Council's Economic Impact Report, tourism accounted for 9.5% of the global GDP and 8.9% of employment worldwide in 2013. The number of international travelers is predicted to double by 2030, increasing to more than 1.8 billion.
Mexico offers one of the world's most diverse array of destinations and attractions and has an excellent tourism infrastructure. Renowned for its hospitality, the country is rich in natural landscapes, cultural events, beautiful coastlines, diverse cuisine and excellent service. In 2013, domestic and international tourism made up 8.4% of the national GDP, generated more than two million jobs, and served as a driving force behind local and regional investment and development. Mexico was 15th in the world in international arrivals (24.2 million), and 23rd in revenue generated by international tourism. Unfortunately, the country was 44th in the global rankings for tourism competitiveness (World Economic Forum 2013).
Current figures show a positive trend in Mexico. In the first half of 2014 there were 14.2 million tourists, nearly 20% more than in the same period in 2013. However, I believe that in recent years, leaders in the tourism sector have lacked the will to politically promote tourism. As a result, the country has fallen dramatically in global competitiveness rankings despite the positive statistics. By the end of 2013, Mexico was no longer a member of the elite group of the ten most visited destinations and had fallen to 15th place. Lately, I have been hearing news that gives the country a bad reputation: disturbances of the social peace, and environmental damage at the Monarch Butterfly biosphere reserves, in the Sierra Tarahumara mountain range in Chihuahua and at some beaches. News like this not only gives potential visitors cause for concern – it drives them away. There is an urgent need for a new approach with a sound vision and a strategic short, medium and long-term plan of action.
Fortunately, some Mexican destinations have strong, stable tourism agendas. The state of Campeche is an excellent example. It has quietly conducted an unerring tourism strategy that focuses on what the region has to offer and takes the steps needed to survive and continue through different government administrations. The region has rich vestiges of pre-Columbian and colonial times. It also offers a window into a spectacular universe of history shrouded in green: the ancient city of Calakmul. This is located within the Calakmul biosphere reserve, the second-largest and most spectacular natural lung on the American continent and a Mexican tropical ecological reserve. Campeche has registered steady growth, reflected in the development of sustainable tourism in the incredibly rich landscape. Travelers can look forward to an enjoyable experience in Campeche. They can take advantage of their human right to explore and enjoy the natural environment. This is supported by a tourism infrastructure based on regional strategic commitment and resolute standards. I would like to see this strategy applied everywhere across Mexico. If the country wants to reach the coveted top-five ranking in global tourism, the only tool that will work from now on is to become less political and more committed to a focus on tourism.
Besides offering a positive form of recreation that provides relaxation for body and soul, traveling enriches various aspects of being human. It encourages appreciation of the different forms and manifestations of life that our world has to offer. Tourism helps develop our knowledge and broaden our tolerance and respect for cultures, customs and traditions.
Sources
UN Declaration of Human Rights, 1948; www.unwto.org/facts
Mexican Secretary of Tourism (SECTUR), Banco de México, OAG, World Economic Forum 2013
Mexican Ministry of Communications and Transportation
UN Conference on Sustainable Development Río+20 (2012)
Integrated Information System for Tourism Market and the Mexican Tourism Board (SIIMT-CPTM)
José Ramírez-Santoyo
Born in the state of Guanajuato, Mexico, José Ramírez-Santoyo has served for the last 20 years as the Director of Mexican Tourism Offices in Germany and in Chicago. He has attended marketing seminars at Lufthansa School of Business and at Northwestern University in Chicago, as well as crisis management courses in Madrid, London and Frankfurt, where he currently resides.
Manuel Cabrera
Manuel Cabrera was born in Mexico City in 1986. He studied graphic design at the Universidad Iberoamericana. He currently works as a graphic designer and illustrator while he pursues a degree in architecture.
November 2014
© Santacruz International Communication